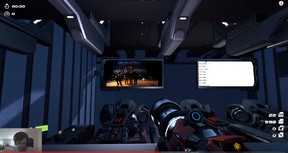 The Community Hub in Diabotical is where players in 
Clans
 can go to hang out together. There will be default Hubs in the game but the Clan Admins will be able to customize the Hub. It is the intention of the developers to allow Twitch feeds into the Hub that include video and chat and Admins will be able to decide which channels are available to their Clans. They will be able to 'shoot' the twitch screen feeds and pause or play them. We will learn more about this as development continues. 
Players who have logged out in the Hub can have their Eggbots 'stored' on a shelf for other players to observe. This gives players a way to show off their bots, even when they are not in-game. When a player logs back in, they will spawn in the place of their bot model and literally jump off the shelf. 
More options are planned for the Community Hub. 
Community content is available under
CC-BY-SA
unless otherwise noted.